PureBallast 3.1
Type approved by IMO and the U.S. Coast Guard, Alfa Laval PureBallast 3.1 leads the way in ballast water treatment. Energy efficient, it offers superior performance in all waters: fresh, brackish and marine. It is also the ideal system for low-clarity water, able to operate at full flow where UV transmittance is as low as 42%.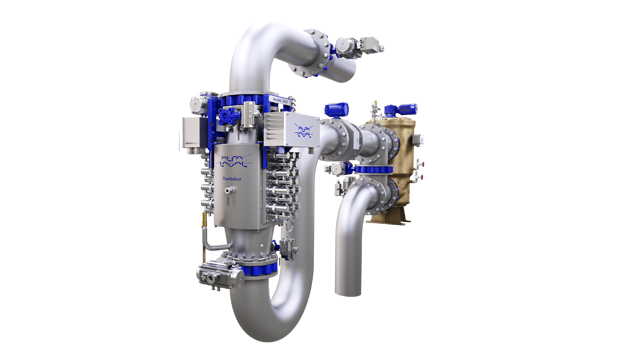 Documents
Related industries
Related services
Pure confidence in ballast water treatment
PureBallast 3.1 provides leading ballast water treatment performance, which gives your vessel freedom of movement. Combined with Alfa Laval's global supply and service strengths, that gives you total peace of mind. Alfa Laval has a complete range of PureBallast 3.1 solutions with IMO and U.S. Coast Guard type approvals, including Ex systems and compact systems for smaller vessels.
Superior performance in any waters
PureBallast 3.1 offers unmatched biological disinfection performance in any type of water: fresh, brackish or marine. This includes water in liquid form at frigid temperatures. Even in low-clarity waters with UV transmittance as low as 42%, the system can perform at full flow. As a result, it runs at just 50% of its potential operating power in most situations – ramping up to full power only when needed.
Simple, chemical-free operation
PureBallast 3.1 is fully enclosed, fully automated and thoroughly integrated with the ballast water system. It needs no salt or chemicals, even when operating in fresh water. No dosing is involved, and there are no tanks or ventilation systems needed to manage consumables or residuals.
Space-saving inline construction
PureBallast 3.1 is an inline system in which the major components (filter and reactor) are incorporated into the ballast water piping. This creates a highly flexible system with a small footprint, which is especially important for retrofits. Ex configurations are simple as well, since the power supply can be placed outside the hazardous zone.
Built on leading experience
Alfa Laval is the most qualified and experienced supplier in ballast water treatment. Having worked with the application for more than a decade, we have installed and retrofitted far more treatment systems than any other. Today we have a complete range of solutions for newbuild and retrofit needs, and our large-scale production is ready for the heavy ramp-up in years to come.
Expert backing worldwide
PureBallast 3.1 is a wise choice of compliance technology, backed by wise service choices to secure its lasting performance. Alfa Laval's global service network has a well-developed offering of solutions to safeguard your system's performance and long-term value.
Our support begins in the early stages with services such as Installation Supervision, or Recommissioning if your installed system has been inactive. Over your system's lifetime, there are services like Calibration and Performance Audits to keep it going strong. For convenience and economy, our experts have grouped them into predefined inspection and service packages, which make it easy to create an Alfa Laval Performance Agreement.
Learn more about PureBallast
Advanced Oxidation Technology, AOT
PureBallast is based on Advanced Oxidation Technology (AOT). Similar chemical-free processes can be found in other applications, including many of today's "smart products".The self-cleaning windows of skyscrapers and cars, for example, prevent the growth of organisms through a reaction that occurs when sunlight strikes titanium dioxide.
PureBallast neutralizes organisms of all sizes with Wallenius AOT, a patented version of Advanced Oxidation Technology. This occurs in one or more Wallenius AOT units, which are incorporated into the PureBallast system.During ballasting and deballasting, the units create radicals with the help of a catalyst and a light source.
These radicals then destroy the cell membrane of microorganisms. The radicals, which never leave the unit, have a lifetime of only a few milliseconds and pose no risk to the environment or crew.
PureBallast precisely logs starts, stops and other data in accordance with IMO guidelines. In this way, the system makes it easy to act in accordance with the ship's ballast water management plan.
Ballast water treatment in brief
Ballast operation
Water passes through a 50-micron filter that limits the intake of organisms and sediment.
The water is treated with Advanced Oxidation Technology (AOT), which destroys microorganisms by breaking down their cell membranes.
Deballas operation
The water is treated again to eliminate any growth that may have occurred in the tanks.
The intake filter is bypassed to avoid contamination at the deballasting site.
Push-button ease
PureBallast is designed for start-and-forget operation. The system is fully automated and possible to start or stop at the push of a button. Because PureBallast is fully integrated with the ship's ballast water system and does not depend on chemical reactions, it creates no delays during ballasting and deballasting.
The system can be operated by up to four remote control panels. The system can also be integrated with the ship's overall control system, which allows it to be handled from the bridge or elsewhere.
Key components
Filter
A 50-micron filter is used during ballasting operations. This not only blocks the intake of larger organisms, but also reduces the amount of sediment in the ballast water system. The filter is bypassed during deballasting operations, which prevents contamination through backflushing at the deballasting site.
Wallenius AOT unit(s)
PureBallast's patented version of the Advanced Oxidation Technology technology, known as Wallenius AOT, has been industrialized in a joint venture between Alfa Laval and Wallenius Water.
A PureBallast system contains one or more Wallenius AOT units, depending on the volume of ballast water involved. These units comprise the active stage of treatment and can be combined to achieve flow rates of 250-2500 m3/h.
For larger ballast water capacities, multiple systems are needed. During ballasting and deballasting operations, the units produce radicals that treat ballast water by breaking down the cell membrane of microorganisms.
CIP module
Performance is safeguarded by an automatic Cleaning-In-Place (CIP) system, which circulates a cleaning solution to prevent seawater scaling within the AOT units. This solution is non-toxic and 100% biodegradable. The cleaning cycle, which takes 15 minutes per AOT unit, occurs automatically after each ballasting or deballasting operation.
Flow meter
A flow meter ensures that the flow within the PureBallast system does not exceed its certified flow rate. The meter also provides the main control system with data regarding the amount of ballast that has been taken in or discharged.
Request information for PureBallast 3.1