Meet Alfa Laval at BeerX 2023
The trading show for professional brewing businesses, SIBA's BeerX, is back for another brew in 2023! Are you an independent craft brewer looking to improve the quality, consistency and capacity of your beer production? If the answer is yes, then come and visit the Alfa Laval stand number 148 at the BeerX UK exhibition in Liverpool! Stand 148 is located to the right of the main entrance near the central Regional Bars, next to the Barista Bike.
Alfa Laval is proud to exhibit at BeerX 2023 in Liverpool at the Exhibition Centre, Liverpool from the 15th – 16th March. BeerX is the UK's largest beer and brewing industry trade show. There will be regional beer bars, a trade-only beer festival, the SIBA AGM and SIBA Members' Conference. The SIBA AGM will present the independent beer and business awards, seminars, talks and panel debates from the beer industry's leading influencers.
Come and have a chat with our brewing experts to discover how Alfa Laval's brewery equipment can enhance your small independent brewery system into an efficient, purpose-built brewhouse. Our proven craft brewing equipment and systems are designed and manufactured for brewers to improve yield, beer quality and range to create the best tasting craft beers.
Alfa Laval has a whole Brew Series to suit all levels of brewery, including the highly renowned compact beer centrifuges - the Brew 20 and the Brew 80. Automate dry hopping with Alfa Laval's Iso-Mix External Drive (IMXD) or find out more about Alhop Dry Hopping System to accelerate your brewing process. We will also be launching a new product soon called ProCarb so come visit us to be the first in the know! Alfa Laval has a craft brewing product and solution to take your brewery to the next stage in craft beer quality, improving yield and range.
We very much look forward to meeting you and answering all your questions about our expert brewery product range at BeerX 2023.
Alfa Laval craft brewing products and solutions:
Explore the Alfa Laval Brew 20
Brew 20 is a compact beer centrifuge specially designed for the needs of brew pubs and small microbreweries. Built with Alfa Laval's unique Axial Hermetic Seal, it also offers a smart innovation for minimizing oxygen pickup without increasing costs.
Let's have a chat
If you wish to discuss our craft brewing products and solutions in more depth, please complete the contact form below and we'll be in touch with you shortly.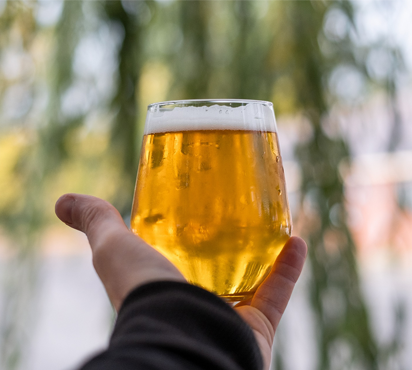 Don't miss out
You can find our experts at stand 148 (opposite the Barista Bike).
The right fit for your passion - Brew 80
Compact beer centrifuge for small craft breweries that need a bit more capacity. Alfa Laval Brew 80 is a multi-purpose centrifuge optimized for a range of brewery applications, including green beer, pre-clarification and polishing.
Rapid Carbonation with ProCarb
By adding ProCarb inline carbonation to your centrifuge, you get clarified beer with high-quality carbonation – at a fraction of the time traditionally required.
Non-alcoholic brewing – new technologies and big opportunities
All-in-one De-alcoholization module makes it easy to simply add non-alcoholic brewing to any existing production facility. Find out how to produce your own non-alcoholic craft beer here.
Dry hopping solutions
Alfa Laval has equipment for all main stages of the dry hopping process. These solutions are designed to help brewers produce distinctive beers while maximizing yield, minimizing process time, improving cleaning procedures and minimizing losses.