Plant-based protein processing
Growing public awareness of the health and environmental benefits of plant protein is causing a major shift in the protein market. Alfa Laval is playing an active part in the development of the vegetable protein industry, supporting global food companies, startups, and research institutions with expert advice and market-leading processing solutions. Building on our long history of working with traditional protein and starch producers, we create sustainable and reliable solutions for the future.
The one-stop shop for plant protein processing systems
We are one of the world's leading suppliers of processing systems for plant-based protein. We also offer systems for whey treatment/water recovery and heat treatment, as well as complete starch processing lines, ensuring no value is lost. Through our collaborations with our partners, we can also deliver milling and drying systems, making us a single-source supplier of complete processing lines.
Our systems come with our process guarantee. They are fully customized and optimized on a system level for high yield and low OPEX. Built for flexibility, they are easy to scale up, making expansions and the transition from pilot plant to full-scale production predictable and smooth. All our components are designed and built for high product purity, outstanding hygiene, and easy cleaning. As a result, our equipment is the perfect choice for producing food-grade protein isolates that meet the highest food safety standards.
Tailored solutions

including

milling, wet process and drying
All our process solutions are uni
que, but usually include the following
process
stages:
Protein extraction
The plant-protein production process starts with protein extraction. First, the raw material is mixed with water to form a slurry, and using methods such as alkaline extraction, acid extraction, or enzyme-assisted extraction, the protein is dissolved in the water.

Next, the protein is separated from the other components in the slurry, mainly fibres and starch, using centrifugation technologies such as decanters, hydrocyclones and separators. Centrifugation has many benefits over traditional solutions based on filtration, including high separation efficiency, low energy consumption, and minimal waste generation. This contributes to a more sustainable and efficient protein extraction process while ensuring high product quality.
Protein purification
After extraction, impurities affecting the quality and functionality of the final product are removed. This is a crucial step when producing high-quality protein products, and several methods can be employed, for example, precipitation and ultrafiltration.
Precipitation is a simpler and more cost-effective method and involves adding acid to the protein solution to induce the precipitation of the protein. The precipitated proteins are then separated from the process water using decanters and separators. Ultrafiltration is another commonly used method. This technique uses a membrane with a defined pore size that allows smaller molecules to pass through while retaining larger proteins.
Heat treatment
Heat treatment, or pasteurization, is performed to reduce the risk of microbial contamination in the final plant-based proteins. The protein product is heated to a specific temperature for a defined period of time to destroy harmful microorganisms while avoiding excessive heating and preserving the nutritional and functional properties of the protein. Protein pasteurization can also improve the shelf life and stability of the product.
Starch/fibre processing
In addition to protein, plant-based raw materials may also contain valuable components such as fibres and starch. During the protein extraction process, these components can be separated and recovered as a side stream, letting you utilize your raw material to its fullest potential. Not only does this provide a new income stream, but it also reduces waste handling and processing.
Stop wasting resources – install a whey treatment system
Adding a whey (process water) treatment system to your plant has a significant positive effect on yield, water cost, and sustainability. A whey treatment system lets you recover water, proteins, and carbohydrates instead of sending these valuable resources to a wastewater treatment plant.
Apart from reducing wastewater volumes, recovering water can cut water consumption significantly. The recovered water can be used for cleaning purposes or polished further for potential reuse in the plant. Circularity is the way to a sustainable world.
Raw materials flexibility
We have processing solutions for a wide range of crops. As new products are being developed, the interest in new types of protein with different characteristics in terms of taste, nutrition, and/or texture is increasing. Adding the right protein can also enhance technical functionalities, including the ability to stabilize multiphase systems such as foams and emulsions. Furthermore, the protein composition and quality may exhibit variations on a daily basis. As a result, our systems have been meticulously engineered to ensure adaptability and maintain a consistent output.

Contact us if you would like to explore the potential of utilizing various raw materials and gain further insights into our flexible designs.
Cereals
Wheat
Oat
Rice
Corn

Starch crops
Yellow pea
Chickpea
Faba bean
Mung bean
Potato

Oilseeds
Soybean
Sunflower
Rapeseed/Canola
Lupin


Aquatic plants
Kelp
Seaweed
Dulse
Sea vegetables
Increase profitability by extracting fibres and starch
In addition to protein, plants also contain fibres and starch to varying degrees. Extracting these valuable fractions from your side streams lets you utilize your raw material to its fullest potential. Benefits include:
Less waste to handle and process

New income streams. Starch can be sold for food, feed or biogas use.
Alfa Laval has extensive experience extracting these valuable components from different feedstocks and can provide highly efficient, customized solutions based on technologies such as decanters, hydrocyclones, sieves, and separators. By using these technologies, the extraction of starch and fibres becomes a sustainable process, thereby contributing to the circularity of your plant.
Upcycling sustainable protein from brewer's spent grain
EverGrain™, a wholly owned subsidiary of global brewing giant Anheuser-Busch InBev, has developed a cutting-edge process to extract high-quality protein isolate from spent grain, a waste product from the beer brewing process.  What was previously dried and sold as low-value animal feed is now turned into a sustainable source of high-quality, highly nutritious, plant-based protein. 
Alfa Laval has provided separation and fluid handling technology for EverGrain's new facility in St Louis. This includes six large decanters, reverse osmosis systems, valves, pumps, and tank cleaning equipment.
Get reliable data before scaling up
Pilot-scale testing at your site …
Alfa Laval offers a complete portfolio of pilot-scale core processing components for vegetable protein production. Our compact, plug-and-play pilot skids facilitate getting proof of concept and collecting valuable test data. Our pilot models have the same operating characteristics as the full-scale models, making scaling up easy and predictable.
… or at our application centre
We invite you to perform pilot-scale test runs at our test and application facilities. Here we have a complete setup covering various process stages, enabling you to try out new ideas and confirm the performance of various equipment.
Webinar – Introduction to plant-protein production
Learn more about the growing market for plant-based protein products and how to optimize production processes for maximum yield, product quality, and raw material utilization.
You will learn about the following:
Commonly used and new feedstocks

Pre-treatment processes

The wet fractionation process

How to recover water

,

proteins and carbohydrates

and by-products

from whey

Alfa Laval's range of systems and components for plant-based protein processing
Complete service solutions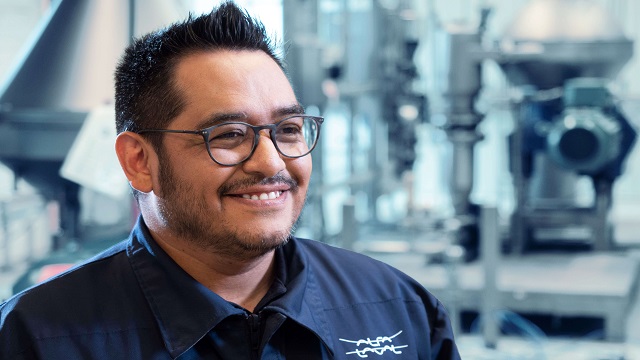 Combining a systems approach to service with extensive process expertise, we optimize the performance of your entire process by identifying and addressing the root causes of your issues.
We offer a complete range of services spanning the entire lifetime of your plant. Our global service network covers nearly 100 countries, meaning quick and professional support is always close.
For maximum return on your investment, we recommend entering an Alfa Laval Service Agreement. This fully customized service solution simplifies budgeting and maximizes performance and uptime. While you focus on your daily operation, we handle the planning, procurement and execution of the required service measures.