Simple upgrades help industry cope with sky-high energy prices
This interview with Allan Bruun, Business Development Manager at Alfa Laval, takes a closer look at the hidden savings potential of existing production lines. 'Energy savings start with water savings' is the mantra of Allan Bruun and where this interview takes its starting point at a time with unprecedented price increases on gas and electricity. The race for savings is on and every minute counts.
Allan, you lead the OptimizeTM initiative at Alfa Laval – why is the topic of optimization highly relevant right now?
We see energy prices rising. The rising energy costs are a real threat to many food and beverage industries. We have talked about energy efficiency for years. Now is the time to do something about it. Small investments in simple upgrades to existing production equipment can protect business and profit by saving on the energy bill. And not only that, it also contributes to meet sustainability goals and prove climate action.
Where do you see the low-hanging fruits that can help save on the energy bill?
Let's start with water. Why? Because energy savings often start with water savings. Heating, pumping and other treatment of CIP media account for a large part of the water and energy consumption at a food and beverage plant. Simple upgrades to the CIP process return instant savings on both water and energy. For instance by upgrading the control top on mixproof and drain valves. The Alfa Laval ThinkTop promises savings of up to 90% on water consumption and hence on the energy bill.
That sounds almost too good to be true. How do you explain these massive savings?
When performing CIP of mixproof and drain valves, the valves are typically activated for 5 seconds, and large volumes of water are led to the drain. ThinkTop introduces a new cleaning design - what we call burst seat and pulse seat cleaning. The design performs the seat cleaning in less than 1 second and the water consumption correspondingly. We have verified these savings at several customer sites, where we have performed trials during production.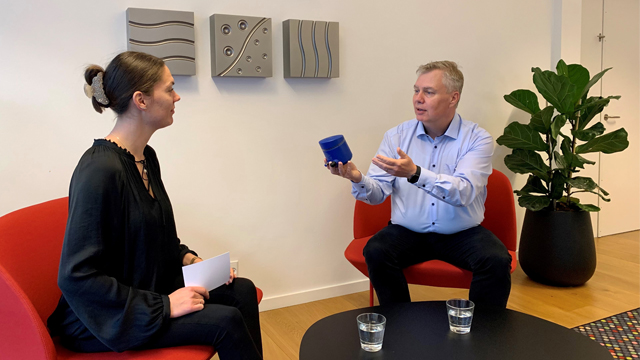 Do you have more examples of instant savings in other processes?
Yes, tank cleaning is another good example. Manufacturers are still using the static spray ball for tank cleaning. Replacing the spray ball with rotary spray heads or jet heads yield instant savings on water consumption – up to 70% in fact. The water savings translate into similar savings on electricity. Plus, savings on chemicals and cleaning time that frees up capacity for extra volumes.
What about the payback time of the upgrades that you mention?
What we talk about here is simple and risk-free upgrades that provide fast return on investment. Prices on water and energy vary from one plant to the next, so do system configurations and cleaning demands. On average, however, I would estimate a realistic payback time to be 1-2 years.
You describe the upgrades as simple and cost effective. What are the typical barriers for doing this kind of upgrades?
There are many stakeholders involved, who may have different targets. Therefore, stakeholder management is very important and the benefits of any upgrade have to be considered and evaluated from many different viewpoints. In general, I think everybody involved in industrial production has to focus more on upgrade programs for existing lines that can boost efficiency and extend lifetime. It makes a lot of sense and is why we have introduced the OptimizeTM initiative. Our initial experience with onsite audits of existing equipment and replacement strategies has revealed huge potential. We usually find something that cut the energy and water bills, and besides, contribute to ESG targets and reporting.
What is your recommendation – how to get started?
I recommend teaming up with an channel partner to go through the lines and pinpoint the savings potential. At Alfa Laval and our partners, we have a global team of trained auditors, who can perform an onsite audit, suggest improvements and calculate savings. Based on the findings, the plant management can then decide on the best implementation plan. As we are talking simple, affordable and risk-free upgrades, implementation is easy with little disturbance to production.
Every minute counts in the race for immediate savings, and this is a chance to get started right away.