Don't go wrong. Buy right. Buy genuine
Nowhere can you find a better insurance policy against contamination than in a box of genuine Alfa Laval parts.
Take a closer look. Optimal performance and unmatched process expertise goes into every precision-engineered Alfa Laval part. With every box of genuine Alfa Laval parts, you get more uptime and minimize the risk of contamination.
With every box, you also avoid the risks of using non-OEM parts. Because when product integrity is at stake, there can be no mistakes.
Remember, look for the logo. Buy genuine.
Ensure your parts are Genuine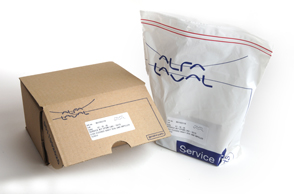 More and more non-OEM parts have deceptive packaging, which leads to the uncertainty of knowing whether your process it truly safe from product contamination or product loss with non-OEM parts.
The only way to ensure your stocked or installed Alfa Laval original equipment is safe and reliable, is when genuine Alfa Laval parts are in place.
Tips to ensure your parts are genuine:
Look for the Alfa Laval logo on every bag, box and part
Ensure the Alfa Laval name and trademark, with the words "Genuine Parts" are printed on pump seal parts
Review the packing list to ensure that part is genuine
Inspect the part number printed on each bag or box