Alfa Laval publishes white paper on sustainable refrigerants
A massive change is taking place in heating and cooling technology, with environmental and regulatory pressures driving a transition from traditional F-gas refrigerants to alternatives with lower global warming potential. Alfa Laval, a leading innovator in the field of heat transfer technologies, has spent years working with customers to develop solutions tailored to the unique needs of synthetic and natural low-GWP refrigerants. All of this knowledge has now been made available in a newly revised white paper that industry professionals can download for free.
Alfa Laval's latest white paper is titled Navigating a changing refrigerants market, and it promises to offer readers "a guide for selecting and accommodating refrigerants for diverse heating and cooling applications." The document was developed by the company as a response to customers seeking more information about choosing from the growing range of new refrigerants generally, and natural refrigerants in particular.
"The shift in today's refrigerant market is much more complicated from what we've seen in the past," says Matteo Munari, Head of Application & Product Development for Brazed Plate Heat Exchangers at Alfa Laval, and one of the expert contributors to the new white paper. "There won't be a one-to-one transition. In most cases, choosing the 'right' refrigerant replacement will depend largely on the application in question and where you operate."
As a result, we regularly hear from customers with questions about what new legislation means for them," adds Tommy Ångbäck, Sales Director in Alfa Laval's Energy Division, and another contributor to the white paper. "With this white paper, we have collected everything we have learned in decades of developing heat exchangers for these different refrigerants. Our hope has been to make it even easier to support customers, putting all that information directly at their fingertips."
A deep look at low-GWP refrigerants
The new white paper offers an introduction to the topic and provides a thorough overview of the regulatory situations in different parts of the world today. It then reviews the different refrigerant options currently available, the most recent market trends, and closes with a look at the various types of new heat transfer innovations that have emerged for handling the needs of low-GWP refrigerants.
Our goal was to make sure the reader understands what is required in their market and the key differences between synthetic options as well as natural refrigerants like propane, ammonia and CO2," says Munari. "Each refrigerant option offers different advantages and potential drawbacks. Readers of this white paper will hopefully walk away with a much better understanding of which solutions offer the best choice for their specific needs, and what types of heat exchanger technology will be needed to handle the challenges of those particular refrigerants."
Keeping customers up-to-date with the latest information
As Ångbäck notes, an earlier edition of the white paper was originally published in 2018. "Since then, a lot has happened in the market," he says. "We therefore felt the time was right to update the white paper so that our customers have access to the latest information. We also expect there will be further updates to the document going forward, for example, as we await revisions to the European Union's important F-Gas Regulation in 2022."
The revised edition of Navigating a changing refrigerants market has been published in connection with the re-launch of Alfa Laval's Heating and Cooling Hub, an online knowledge base with tools and resources for HVAC and refrigeration professionals. It is available for free download, with no registration required.
To download the white paper and learn more about Alfa Laval's approach to synthetic and natural low-GWP refrigerants, visit www.alfalaval.com/heating-and-cooling-hub.
For further information, please contact:
Therese Tonning, Marketing Communication Manager
Business Unit Brazed & Fusion Bonded Heat Exchangers,
Energy Division, Alfa Laval
Phone: +46 46 36 72 09
E-mail: therese.tonning@alfalaval.com
Theresa P Elven, Communications Project Manager
Business Unit Gasketed Plate Heat Exchangers,
Energy Division, Alfa Laval
Phone: +46 46 36 65 30
E-mail: teresa.pelven@alfalaval.com

Editor's notes
Alfa Laval is active in the areas of Energy, Marine, and Food & Water, offering its expertise, products, and service to a wide range of industries in some 100 countries. The company is committed to optimizing processes, creating responsible growth, and driving progress – always going the extra mile to support customers in achieving their business goals and sustainability targets.
Alfa Laval's innovative technologies are dedicated to purifying, refining, and reusing materials, promoting more responsible use of natural resources. They contribute to improved energy efficiency and heat recovery, better water treatment, and reduced emissions. Thereby, Alfa Laval is not only accelerating success for its customers, but also for people and the planet. Making the world better, every day. It's all about Advancing better™.
Alfa Laval has 17,500 employees. Annual sales in 2019 were SEK 46.5 billion (approx. EUR 4.4 billion). The company is listed on Nasdaq OMX.
Download white paper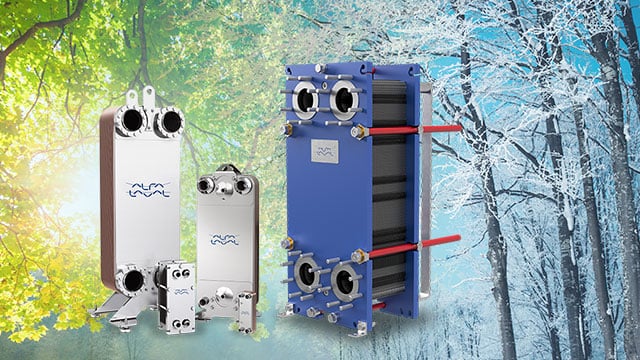 Looking for more tools and expertise?
Want to get more of the knowledge Alfa Laval has gained in our 8+ decades of experience in thermal transfer? Does your business need to access BIM files, 3D drawings or other consultant tools? Take a spin over to our Alfa Laval Heating & Cooling Hub for the latest resources for your industry.