Alfa Laval is powering new innovations in ethanol production
Alfa Laval used spiral heat exchangers – and expertise – to add an innovative twist to Inbicon's 2nd generation ethanol production, helping create a revolutionary new process that will be licensed worldwide.
DATE
2023-11-28
Creating profitable, renewable fuels
Born out of a collaboration between Elsam and DONG Energy, Inbicon has a long history of innovation in sustainability. Their aims are far-reaching: to solve the global energy problem by converting crop residues into genuinely clean and profitable renewable fuels. At their award-winning biomass refinery in Kalundborg, Denmark, they have designed a patented technology for production of clean fuel, 'the new ethanol'.
Company challenge
To create a clean 2nd generation ethanol production process that was energy efficient and that lowered costs of production and energy consumption
However there was a weak link in the process which Alfa Laval was able to fix. Heat exchangers at the heart of the process became clogged by the viscous and fibrous media which caused expensive unscheduled downtime.
Solution
Discussion with Alfa Laval.
"Alfa Laval supplies resilient equipment that can always be relied upon. Their vast knowledge means they understand the process inside out and contribute to innovative new concepts in development", says Jesper Bang Anderssen, Marketing Manager at Inbicon.
Results
Alfa Laval helped Inbicon create a patentable process for ethanol production by supplying spiral heat exchangers that resulted in:
No costly, unscheduled downtime
Three revenue-generating products: ethanol, lignin biofuel for power plants and animal feed
Continuous, reliable operations
Innovation, collaboration and combined expertise have created a revolutionary new technology that has the power to change renewable fuel production forever and reduce greenhouse gases worldwide.
Product
Why choose Alfa Laval spiral heat exchanger?
Unique spiral shape has the ability to handle two highly fouling fluids simultaneously
Significantly higher heat transfer efficiency.
Self-cleaning design reduces fouling and energy costs
Easy access cuts costly maintenance downtime
Fully drainable units for easy maintenance
Flexible design, fully engineered to adapt to every customer's needs
40 years' experience in manufacture and process design makes us an expert innovation partner for your unique process.
Customer's voice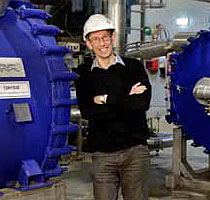 Alfa Laval's expertise was key in finding the right solution to our cooling needs and their spiral heat exchangers are extremely reliable. Everything runs without any problems since the start.
Carsten Skjodt, Project Manager Inbicon