Coal tar - from by-product to value product with decanter centrifuges
OAO "Koks" is a Russian industrial group of several technologically integrated companies that produce high-quality coking coal and coal concentrates, as well as metallurgical coke and pig iron.
DATE
2023-11-28
In 2002, OAO "Koks" installed two three-phase Alfa Laval decanter centrifuges in the tar recovery section of the Kemerovo plant. These are used for dewatering the coal tar and removing solids at the same time.
When legislation regarding the ash content in the tar became more stringent, Alfa Laval replaced one of these decanter centrifuges with a new model, specifically designed to meet the new requirement. This has enabled the company to market a coal tar product with guaranteed high-quality specifications.
Products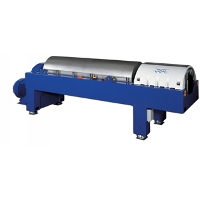 The STNX range of high-performance decanter centrifuges provides the starch industry with the most cost-effective separation solution available, with the lowest power consumption and life cycle costs as well as the most advanced technology.
Customer's voice
The new three-phase Alfa Laval decanter enabled us to reduce the tar ash content to below the required 0.15%.
Mr V. A. Chumarov
Head of the by-products plant