Successful filtering of wastewater produced at Suntory Beverage & Food with Alfa Laval MBR membranes
At the plant where these famous French brands are produced, Alfa Laval MBR membranes are used to treat the wastewater – ensuring that it is crystal clear when it is released into the River Loire at the end of the process.
DATE
2023-11-28
Alfa Laval's MBR membranes have been successfully filtering the wastewater produced at Suntory Beverage & Food France's production facility in Donnery for almost a decade. Last year, during recent routine maintenance to replace the membranes, Alfa Laval took the opportunity to optimize the process – securing the long-term operation of the membranes and strengthening customer closeness.
The plant is one of four sites operated by Suntory Beverage & Food France, which is part of Japanese group, Suntory, a leading producer of soft drinks on the French market. The company employs more than 1,200 employees, who are passionate about their profession, and who bring to life such brands as Orangina, Oasis, Schweppes, Pulco, Champomy or MayTea.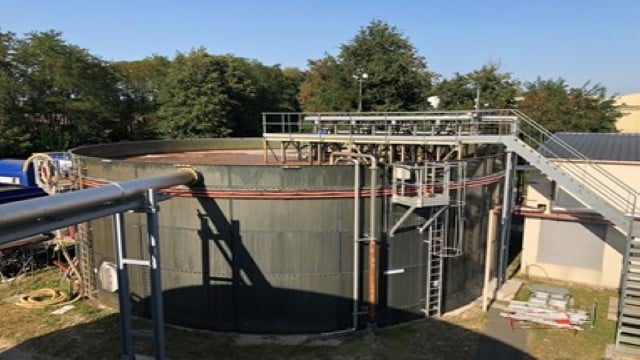 The MBR Tank
Suntory Beverage & Food France is committed to promoting positive and sustainable activity and lifestyles, while respecting the environment and people. The company has invested, over the last 4 years, to minimize its environmental impact and has reduced its carbon emissions by 30% compared to 2015. Thanks to this focus, the four sites, including Donnery, reached carbon neutrality in 2020.
In 2011, investments were made across the whole site, including the upgrade of the existing wastewater plant. Due to stricter outlet regulations on the discharge of treated wastewater into rivers, MBR technology was an obvious choice. This technology also solved the previous challenges associated with the original conventional process and created the opportunity to increase the treatment capacity of the wastewater plant on a site where space is limited.
As a result, the first set of Alfa Laval MBR membranes were installed and commissioned in 2013, and the plant has been running well since with the permeate produced by the Alfa Laval MBR membranes mainly discharged into the nearby River Loire.
After 7 years in operation, the customer contacted Alfa Laval to proactively replace the membranes. This was successfully achieved in 2020, despite the travel challenges related to the ongoing coronavirus pandemic. Both the customer and Alfa Laval worked together with open communication, flexibility and professionalism to make this intervention happen in a safe environment.
The commissioning phase in 2020 also permitted optimization of the membrane operation, saving up to 70% in chemical consumption per cleaning, securing long-term operation of the MBR membranes and strengthening customer closeness.
Key stats:
4 production lines producing 460 million bottles and cans per year, which is a third of the total Orangina production in France
930m3 of treated water released daily into the River Loire – the biggest river in France