The oil field of the future
Remote monitoring through connected products, will reduce visits to unmanned oil platforms. And it will put data at the heart of a new type of service agreement.
DATE
2023-11-28
AUTHOR
Richard Orange
PHOTO
Aker BP
At first sight, it is hard to recognise that it's supposed to be an offshore oil platform. A silvery, domeshaped structure rises out of the ocean like an alien vessel from a sci-fi movie. Instead of riggers in hard hats, it's operated by executives in suits remotely from a screen.
Field of the Future is intended to provoke, says Stian Ødegaard, project manager for Unmanned Installations at Aker BP. "It's a very futuristic vision. This was meant to get people to think differently about what an offshore platform could be, to trigger debates in the oil and gas industry.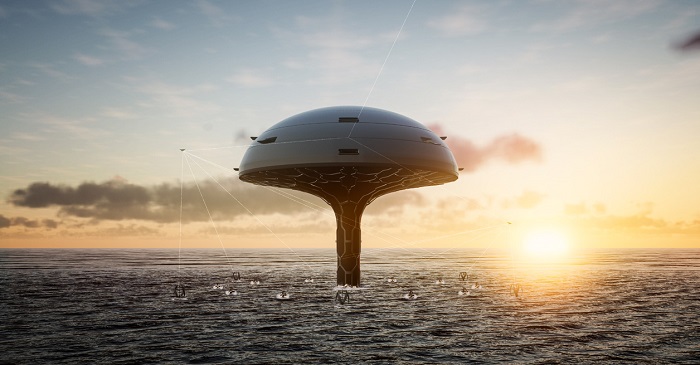 It probably won't look like a mushroom, he says. But the unmanned platform is already close to reality. In January 2019, it became Norway's first remote-controlled manned offshore platform.
In August last year, Aker BP signed a contract with Framo, Alfa Laval's business unit for pumps, which marked an important step on the way. "We are sharing data from our ongoing operations – our assets – directly with Framo, so they can see what's going on with their pumps, and when and where they need maintenance," Ødegaard explains.
The company's software joint venture Cognite has been working to digitise the platform. "It's collecting millions of data points every day," Ødegaard says.
What we are doing now is making this 'horizontal database', which is aggregating and taking all this data, contextualising them, and putting them into a unified state, so that you can build whatever type of application you like on top of it.
Stian Ødegaard, project manager for Unmanned Installations at Aker BP
As Aker BP relies so heavily on suppliers like Framo, reducing the need to visit a future unmanned platform will require a new type of service agreement. "The whole idea is to ensure that suppliers have the same incentive as us, which is uptime," Ødegaard says. "We need to revisit how we plan maintenance in totality."
Aker BP hopes that Framo will use cutting-edge 'big data' analysis to develop predictive tools that can indicate when repairs or maintenance are likely to be needed. If other companies follow Aker B P's lead and share data with suppliers, companies like Framo will gain ever more detailed insights into their equipment. By helping its suppliers identify and eliminate such common faults, Aker BP hopes they will soon be able to sign contracts guaranteeing maintenance free uptime.
Ødegaard says: "The question is, what type of artificial intelligence, predictive maintenance or analytics will give you the comfort that you could say to me, 'yes, it can stand there for three years. I will monitor it and I will tell you when it needs something, but I can guarantee that it won't be more than every second year.'"
For now, the data sharing deal is exploratory, a first step on the way toward a new kind of contract. Framo and Aker BP have yet to thrash out what sort of performance indicators they will measure and what Framo would be liable for. But Ødegaard believes that when the new type of data-driven contract is finalised, it could bring big changes.
Our award-winning magazine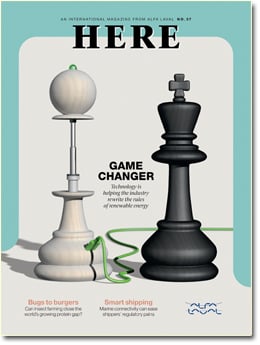 Innovative food processing to turn bugs to burgers, or new technology to store renewable energy are only two examples of articles in the new edition of HERE magazine. The articles illustrate what we mean by responsible growth, providing solutions that benefit both people and planet. HERE won the Swedish Publishing Prize in 2019.
Extending performance with the Alfa Laval 360° Service Portfolio

Our extensive service portfolio offers all the services you need to ensure top performance,
maximum uptime and operating efficiency from your Alfa Laval equipment throughout its life cycle. Our team of experts and the availability of parts bring you peace of mind.
A glimpse of the future?

The prospect of truly unmanned oil platforms involves not only looking at processes in a different way, but also reimagining what an oil platform might look like.
The mushroom, nature's "unsung hero", was an important design inspiration for Aker BP's Field of the Future concept. The result was autonomous offshore platforms combined with a land-based "digital twin" for monitoring and operations.
Are you curious?
At Alfa Laval, we always go that extra mile to overcome the toughest challenges. Our driving force is to accelerate success for our customers, people and planet. You can only do that by having dedicated people with a curious mind. Curiosity is the spark behind great ideas. And great ideas drive progress.
In our Career section you find opportunities for curious minds to have a lasting impact on some of the planet's most urgent problems.
Advancing better. With Alfa Laval.
Alfa Laval Annual & Sustainability Report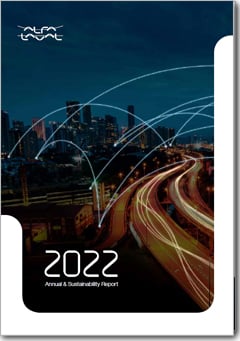 In our latest annual report, you can read about the year that past, the trends that drive our business and the industries we serve. It will also give you a better understanding of our people, products and services, and how innovation and sustainability is an important part of everything we do.
This year we have integrated the Sustainability Report in our Annual Report.