Lighter pallets: small change drives a significant drop in CO2 emissions
Every year 60,000 pallets loaded with spare parts and equipment are shipped by air around the world from Alfa Laval's four main distribution centres.
DATE
2023-11-28
The innovation in these components is constantly advancing, but one essential element in these shipments remained the same: the wooden pallets. Then, in 2019, they were thrown into the spotlight as part of the company's ongoing strategic focus on sustainability.
Abbas Habib, Sustainability Manager in Parts Distribution & Logistics/Sourcing, carried out a black-belt kaizen on pallet usage. As part of this process, he realised that a simple switch from Euro pallets to light pallets would have a dramatic impact on costs and emissions.
Now all Alfa Laval's Global distribution centres are using the lighter pallet, with a resulting reduction in CO2 emissions totalling 1,691 tonnes and a €1.3 million drop in freight and material costs.
The figures are eye-catching and speak strongly of the potential gains in taking a forensic look at all aspects of business operations from a sustainability perspective.
"The light pallet was less than half of the weight of the Euro pallet, and we could not find a reason that made it necessary to use the heavier ones," Abbas explains. "It wasn't a quality requirement; it wasn't a safety requirement; it was just what we had always used."
A pilot project that explored all the elements of a switch to the light pallet concluded that all quality, safety, and customer requirements would be met, and colleagues were happy too.
"We began using the new pallets in 2020 – starting in DC Tumba and rolling out to the other sites over the next two years," says Abbas. "We have had a very good response from customers and colleagues. It's a win-win from all angles."
Other initiatives focusing on replacing plastic wrapping material with paper, swapping boxes for envelopes for spare parts and using cardboard pallet frames instead of wooden ones have also contributed to the success of the project, and Abbas is now keen that other parts of the organization take a look at their processes through a sustainability lens.
"It's not easy to change but it's obvious when you see these figures. When you put sustainability at the forefront of your thinking, you can see the benefit for people and the planet, and that is the motivation for everyone in our organization to act," he says, adding that lots of small initiatives can have a big impact when added together.
"This has not generated a high process change investment or increased workload," says Abbas. "It has just been a matter of changing the mindset. When people see what can be achieved, they start to question why we do what we do automatically, sparking new ideas: the next step will be how we can ensure customers reuse these pallets. We are not stopping with one good idea. We continuously striving to increase our sustainability and reduce carbon emissions."
Alfa Laval has set a target to become carbon neutral by 2030. Many initiatives related to scopes 1, 2 and 3 will contribute towards reaching this target.
By switching to lighter pallets, the individual distribution centres are making the following annual savings: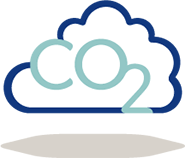 Total emissions saving: 1,365 tonnes CO2
Tumba: 200 tonnes CO

2

Kolding: 377 tonnes CO

2

Lund: 448 tonnes CO

2

Kunshan: 300 tonnes CO

2