Alfa Laval increases the share of renewable energy
Recently, Alfa Laval's Operations in Jiangyin, Kunshan flow and Qingdao switched to purchasing 100% renewable electricity. This means that Alfa Laval is now using renewable electricity for more than a third of its total annual electricity consumption worldwide.
DATE
2023-11-28
Alfa Laval has set environmental targets for 2020 including reducing its energy consumption by 10 percent and carbon emissions by 15 percent compared with 2015. To ensure Alfa Laval reaches its carbon emission target by 2020, Alfa Laval has a strategic plan to increase the proportion of its renewable electricity use.
To reach our 2020 targets, we have increased the focus on energy and carbon emissions in our manufacturing plants. Last year, we decided to increase investments in renewable electricity sources" says Mikael Tyden, Head of Operations.
Carbon emissions are higher at sites where electricity consumption is generated from coal or other fossil fuels. Now that electricity purchased by the three large manufacturing sites in China is 100% renewable, Alfa Laval's carbon emissions will be reduced by 19 000 tons per year. This translates to a reduction of Alfa Laval's Scope 1 and 2 emissions with more than 20%.
Activities are ongoing at Alfa Laval with the aim of reducing carbon emission and energy consumption. These activities include having energy as a key performance indicator in all manufacturing sites, a newly established cross-company energy group, which will focus on sharing best practices and a company-wide project that will be implemented this year to switch to LED-lightning.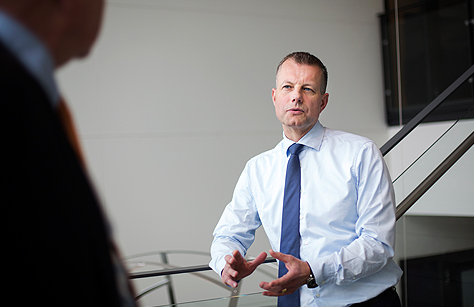 Mikael Tyden, Head of Operations
Sustainable operations
Alfa Laval works to optimize the use of natural resources in both our own and our customers' operations. As part of this commitment, we work continuously to reduce our energy consumption and carbon emissions. Want to learn more about how Alfa Laval work with sustainability in our own operations?
Sustainable solutions for a better world
Renewable power generation contributes to the long-term sustainability of our planet and provide substantial benefits for our climate, our health, and our economy. Alfa Laval has a broad range of equipment and services to support the growth of renewables.