Sourcing talent for the future
Mattias Noren participated in Alfa Laval's Talent Program during his university studies and is now employed as a Development Engineer at Alfa Laval Lund.
DATE
2023-11-28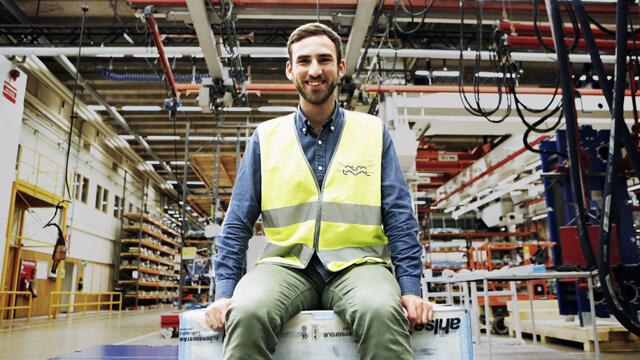 Five questions to Mattias
What attracted you to Alfa Laval's Talent Program?
The possibility to get an insight into what it means to work as an engineer as well as a getting challenging work in the summers.
How was it to participate in the program?
I think it was both stimulating and fun. Working in the factory and see the different parts of the manufacturing process gave me valuable insights, which I think I can benefit from in my daily work, even today.
What is your best experience with the program?
When I started to work after graduation, I felt I was well prepared and already had some engineering experience. During the second year of the program, for instance, I was involved in the design of a part in a sharp project. To see your work on a product in production feels great.
Can you give some examples of projects you work on?
I'm a development engineer working with the next generation of gasketed plate heat exchangers. I work in projects where I am responsible for the design of core components in new products. The first product I was involved in, can now be found in skyscrapers and locations all around the world, that's quite cool.
What's your best advice for students and new graduates keen to work for
Alfa Laval?
Be curious, at least that's what I am. Don't hesitate to ask if you don't understand. If your college doesn't know, you may both learn something or find a new and better way to solve the problem.
"Alfa Laval is an open, positive and friendly place to work. I felt very welcome when I started, and I think we have an enjoyable atmosphere at the company."
Mattias Norén, Development Engineer
Title: Development Engineer
Lives: Malmö
Educational background: Master's degree in mechanical engineering at Lund University
About Alfa Laval's Talent Program
Alfa Laval's Talent Program in Lund aims to ensure an inflow of young ambitious talents with great drive to the company.
Did you know?
Seven participants are now participating in the Talent Program in Lund
The program gives students work experience within production during the first summer and the following summers the students gain experience from working in an office environment.
Who we are
We are innovating people. We innovate to improve everyday conditions for people. That's what we do and have been doing for well over a 100 years, with more than 2,000 patents. Alfa Laval is a global company. However, our origin is Swedish and this reflects our corporate culture. Of course you don't have to be Swedish to succeed at Alfa Laval, but you need to share our mentality.
We make a difference. Wanna join?
Our innovations contribute to everything from reducing CO2 emissions in Russia to making sure tomatoes can grow in desert Australia, via increasing the use of solar power and safely pumping up oil from sunken ships. By joining Alfa Laval you will work for a clear and high purpose - to improve the everyday conditions for people.