Alfie, the simple to use separator from Alfa Laval! Turnkey, portable, small footprint, centrifugal disc stack separators that remove contaminating oil, grease and solid particles from water-based industrial fluids such as coolants and wash liquids. The effective separation down to small particle levels helps prevent tool wear, avoid disposal problems and lowers costs and fluid usage, resulting in a more sustainable and economical process.
Quick, continuous cleaning
Small, portable, effective centrifugal separation
Less downtime for service since you can connect Alfie to a bypass flow
Effective simultaneous separation of oil, grease and solid particles
Easy to install, use and service! Designed for operator convenience
Works with existing machinery with no retrofitting required
Industrial fluids play a key role in the service life and output quality of your machinery. Disc stack separation is proven to be one of the most effective ways to ensure these fluids are free of contaminating tramp/free oil and fine particles. Contaminants that can damage the machinery and make them less effective.
Separation of industrial fluids also leads to longer fluid life, saving you money on purchasing and disposal. Reduced fluid use and disposal also contributes to sustainability goals and regulations. Using Alfa Laval's Alfie, you get an effective separator in a compact, turnkey unit that makes financial sense as well. Use the CoolCalc tool where you can calculate your return on investment with the Alfie separator and see how it stacks up against other separation solutions.
Accelerating sustainable solutions
Imagine a more sustainable world. A world in which less is needed to produce even more. A world in which we efficiently meet our growing energy needs and at the same time reduce CO2 emissions. Imagine a world where we can harness the power of natural resources while preserving them. At Alfa Laval, we don't just imagine this world. We build it together with our customers and our partners.
How it works
Alfie systems separate phases quickly by using a centrifugal force that's 5,000 times stronger than the gravity used in traditional settling tanks.
The centrifugal force presses heavy particles outwards against the separator walls. The disc stack forces lighter particles to follow the heavier ones instead of the liquid, making separation more precise and efficient.
Choose the ideal system for your application
We offer systems for all types of fluids – whether you're a small workshop or a large factory.
Alfie 200
Alfie 200 is specially designed to remove contaminants from coolants in smaller systems, using the time-tested technique of centrifugal separation. Alfie 200 is designed for mounting on top of coolant tanks, and is fitted with a bellows that automatically adapts the inlet to the tank's fluid level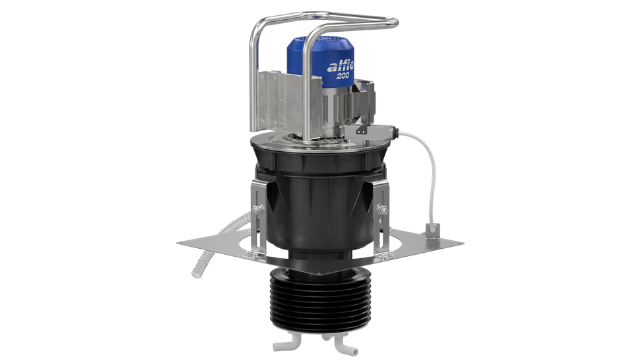 Alfie 500
Alfie 500 removes contaminating oil, grease and solid particles from coolants. The result is lower costs due to reduced fluid consumption, lower disposal costs and improvements in both product quality and working environment. Alfie 500 is a mobile system ideal for smaller applications, with special couplings that make it easy to connect and disconnect hoses quickly.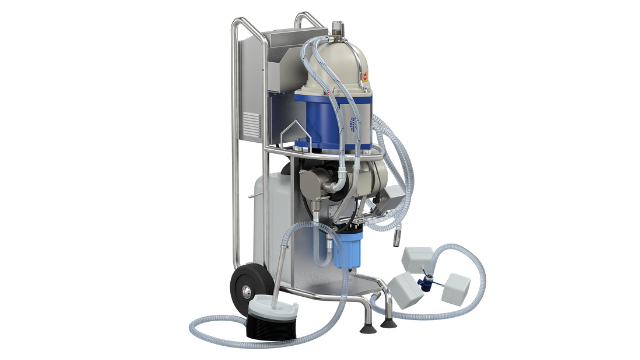 Quick selection guide
The Alfa Laval product guide is an easy-to-use tool to help you filter, select and quote the best solution for effective cleaning of coolants, wash liquids and lube oil. Enter the online catalogue and find your selected products and parts now. If the products are not visible for your country, please fill out the contact form.
Cutting fluid separation
Keeping your cutting fluids free from solid and liquid contaminants prolongs tool and fluid lifetime, which means a lower total cost of ownership and less service downtime.
Wash liquid cleaning
When it comes to cleaning wash liquids, the replacement process can be costly thanks to disposal and downtime. With efficient separation, you can maximise productivity and efficiency for longer.
Save resources by cleaning cutting fluids
Cutting fluids are an essential part of many machining processes, and without the right care and attention they become contaminated and can cause problems. By effectively cleaning your cutting fluids, you can avoid these issues and reduce your overall operating costs. In this whitepaper we explain the pros and cons of the different cleaning methods, and help determine which is best for your business.
Service Kits and Spare Parts
An Alfa Laval centrifugal separator will perform for decades if you look after it properly. But you have to familiarize yourself with the manual and make sure you use genuine spare parts and the right tools. We provide specific service kits with genuine spare parts and a comprehensive package of detailed service instructions. We even have service videos on how to properly maintain your separator. Visit the product guide to find out more! If the products are not visible for your country, please fill out the contact form.
Contact us
If you want to find out more about cutting fluid separation, fill in the form and one of our experts will be in touch soon.