Planning a cooling system can be a complex task, considering the many factors involved in a successful solution. Alfa Laval supplies a comprehensive range of high-quality heat exchangers and components for cooling applications, and applies knowledge and experience gained from numerous completed projects around the world.
Comprehensive range, reliable performance
Most cooling solutions involve one or more heat exchangers. Alfa Laval identifies a solution for specific cooling needs, customised from our comprehensive heat exchanger range. Our performance-certified heat exchangers ensure reliable performance.
Solutions that perform under pressure
Alfa Laval provides solutions for major projects such as comfort cooling in skyscrapers. Large volumes of water must be pumped over great distances at constant high pressure through tall buildings. Alfa Laval's complete cooling portfolio for tall buildings includes heat exchangers in a pressure-breaking role to protect chillers and air conditioning units from excessive pressure.
Alfa Laval 360° Service Portfolio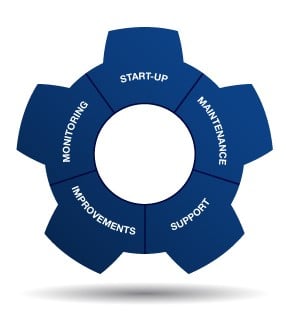 To keep your equipment in top working condition, Alfa Laval offers a comprehensive portfolio of services.
Contact us to find out how we can extend the performance of your products.
Join us for a webinar series on cooling systems
Cooling applications are experiencing a rapid transformation, with sustainability drivers creating all new challenges. But Alfa Laval can help. Join our subject experts for the first ever webinar series devoted to the latest trends – and solutions – shaping our industry. Take part live – or watch on-demand according to your schedule!
Consultant? System integrator?
Are you a consultant? Look here! With expertise from decades of experience in heat exchange, Alfa Laval offers knowledgeable resources for today's heating and cooling challenges. Discover answers to complex questions on everything from energy efficiency to natural refrigerants, along with helpful tools that make it simpler to find the right technology for your application.