Marine gasketed plate heat exchangers
Alfa Laval has been developing heat transfer technology for more than 80 years and has been active in the marine industry for over a century. Based on that vast wealth of experience, our engineers have designed gasketed plate heat exchangers that set entirely new standards – not only for reliability, but also for thermal performance and ease of service.
The marine industry's most modern line of plate heat exchangers
Superior reliability and energy efficiency
Small size and footprint (CompactFrame™ design)
Minimal fouling (CurveFlow™ plate distribution area)
Easy installation and service (five-point alignment system)
Optimized global supply chain and production for smallest environmental footprint
Suitable for any vessel, Alfa Laval gasketed plate heat exchangers excel in applications from general heating and cooling to heat recovery, condensation and evaporation. With their innovative features, they take reliability to an all-new level and save crews time and effort during maintenance. Above all, their design minimizes fouling and maximizes heat transfer capabilities, which ensures the highest possible energy efficiency.
Gasketed plate heat exchangers for your vessel
Compact, reliable and energy-efficient, Alfa Laval gasketed plate heat exchangers are also safe and simple for crews to maintain. Our flexible marine line provides the right match for your needs today – with the possibility to adjust capacities later.
T6
DN 60
T10
DN 100
T15
DN 150
T21
DN 200
T25
DN 250
T35
DN 350
H (mm)
890
1054
1833/1781
2082
2761
2875
W (mm)
320
470
610/650
755
913
1174
Max flow rate (m3/h)
60
160
370
650
1000
1970
Capacity (kW) – water duty with LMTD 6
800
3 000
9 000
18 000
28 000
35 000
Alfa Laval Marine Service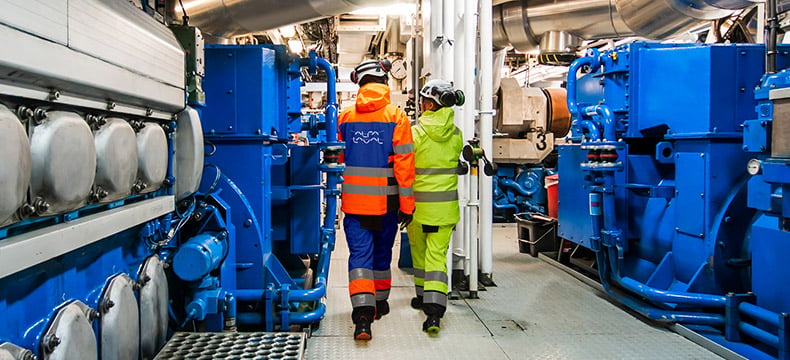 Worldwide and 24/7, Alfa Laval Marine Service is your path to greater uptime, optimized performance and true peace of mind. Our network is always on call, and our service offering brings reliability, efficiency and compliance throughout your equipment's lifetime.


Heating and cooling in an engine room
On a ship, there are many types of machinery with a cooling demand. When the heat energy cannot be recovered or utilized, the total costs of transferring it away from the machinery should be kept to a minimum. Alfa Laval can ensure a cost-effective central cooling system through our portfolio of innovative plate heat exchangers. Our gasketed plate heat exchangers have unique features that reduce the running costs for engine room cooling – and contribute to sustainability.
Are you on a quest to save energy?
Alfa Laval is setting the standard for thermal efficiency of plate heat exchangers. Bringing together innovative features improving energy efficiency and minimizing downtime we can accelerate the transition to more sustainable solutions and reach net-zero by 2050.
Demand new standards
Introducing the world's most modern Gasketed plate heat exchangers. Discover how our next-generation line of gasketed plate heat exchangers will bring you higher efficiency, better reliability and greater serviceability.
Do you need BIM files?
Heat exchangers from Alfa Laval are now available in the digital infrastructure for BIM objects. Preview and download building information modelling (BIM) files for your heat transfer solutions.
How it works
The heat transfer area of a gasketed plate heat exchanger consists of a series of corrugated plates, assembled between a frame and pressure plates to retain pressure. Gaskets act as seals between the plates. Fluids normally run counter-currently through the heat exchanger. This gives the most efficient thermal performance and enables a very close temperature approach, ie the temperature difference between the exiting process medium and the entering service medium.
Alfa Laval liquid/liquid gasketed plate-and-frame heat exchanger
Features that make the difference
The Industrial line is equipped with features that turn this high-performance family into efficient and reliable workhorses that are easy to service and maintain over the whole product lifecycle.
For efficiency
By improving the efficiency of your heat exchanger, you can maximize production and minimize energy consumption to reduce your power bill and improve your environmental footprint.
See product animations below or get more information and listen to our technical experts.
CurveFlow™
distribution area
Improves media flow and minimizes risk of fouling.
OmegaPort™
noncircular port holes
Enhances media flow and thermal efficiency.
FlexFlow™
plate design
Improves thermal efficiency and optimizes pressure drop utilization.


For reliability
We are always looking to increase the reliability of every aspect of our gasketed plate heat exchangers.
We focus on durable designs based on robust materials and safe manufacturing processes.
See product animations below or get more information and listen to our technical experts.
PowerArc™
plate pattern divider
Improves plate rigidity for longer lifetime.
Five-point alignment
Ensures reliable plate positioning and easy to service for large units.
SteerLock™
plate alignment
Ensures reliable plate positioning and easy service.
For serviceability
The simple opening and closing of the plate-and-frame design with gaskets enables hassle-free inspection and service. It also enables you to easily adapt the unit to new process conditions.
See product animations below or get more information and listen to our technical experts.
ClipGrip™
gasket attachment
Ensures perfect seal and trouble-free maintenance.
T-bar roller
Provides a lower unit that is easy to service.
Bearing boxes
Guarantees an easy-to-open unit for smoother, more efficient maintenance.
Compact frame
Facilitates maintenance and minimizes service area requirement.