Lube oil treatment to remove solids and water
Lube oil treatment with disk stack separator models take place in an independent bypass, leaving the process untouched.
For lube oil treatment, the dirty lube oil is taken from the bottom of the lube oil tank. Depending on the lube oil's viscosity, it is then heated and afterwards separated. The water is continually removed from the dirty oil via the disk stack separator, while the clean oil is routed back to the top of the lube oil tank. The solids are collected in the separator bowl. Solids retained in solid disk stack separators are to be cleaned manually, while solids accumulated in self-cleaning disk stack separator modules are periodically and automatically discharged.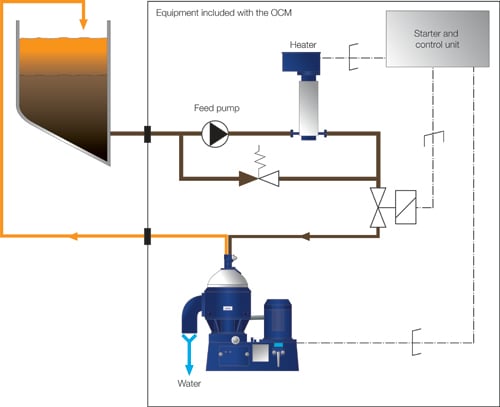 High cleaning efficiency with lube oil treatment
Lube oil contamination with particles and water is significantly reduced after only one lube oil treatment step. As the lube oil is routed several times through the disk stack separator modules, the cleanliness level in the lube oil tank continually increases, especially by removing further smaller particles (less 10 µm). Consequently, a very high efficiency is achieved after only a short period of lube oil treatment. A disc stack separator is also called high-speed separator (HSS) or separator centrifuge.
Lube oil treatment with centrifuge module and fine filter
A typical Lube oil treatment method is to place a disc stack separator module in a bypass of the system and a small fine filter in the process as process control. The disc stack separator module removes most of the particles in order to be able to take only a small filter and prolong the lifetime of the filter elements and reduce the filter operation and disposal cost. In the case of water presence in the lube oil, the disk stack separator module eliminates the need for a filter coalescer. Investment and operational costs are reduced, giving a positive effect on total cost of ownership (TCO).


By: Carsten Schrader, Dipl. Ing., Global Technology High Speed Separators, Alfa Laval
Our lube oil cleaning blog
Lube oil cleaning technologies
Whitepaper: The importance of lube oil cleaning
Eager to understand more about lube oil cleaning? Our whitepaper gives you a comprehensive overview of the technologies available and acts as a guide to choosing the best one for your application.